I've just published part 3 in my Cyber series of short stories: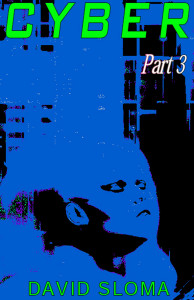 Seamless data flow brings words and images together on a screen. Two beings inside the data stream. Lovers. But what is real? And how will they be together?
This is science-fiction/cyberpunk type stuff, with a space opera bent (cyberspace in this case). It's a techno-relationship story.
Buy the ePub file direct from me via Gumroad (I get the best royalty rate this way!): https://gum.co/Afazk
Get it at Amazon for Kindle : http://amzn.to/1AKawtM
This is Part 3 in the Cyber series, so read these other parts first:
Cyber – Part 1: http://amzn.to/17Rrv6V
Cyber – Part 2: http://amzn.to/1zKxgtA
Part 4 coming in March 2015.
Cyber – Part 1 Spanish Version: http://amzn.to/1KkFd3L
Update: March 5, 2015
Right now Cyber – Part 3 is on Amazon(.com) at:
#23 in Kindle Store > Kindle Short Reads > 15 minutes (1-11 pages) > Science Fiction & Fantasy
#43 in Kindle Store > Kindle Short Reads > 15 minutes (1-11 pages) > Romance