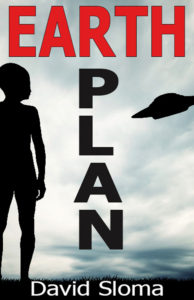 My novel EARTH PLAN has been out for a few months now, but I thought it was time to update the cover. That's it pictured above, for the ebook. I just wanted to show it off!
Grey aliens invade the primordial Earth to genetically alter humans and enslave them. Ships from the Watchers land too, collecting DNA to preserve it from tampering. An energy shield appears around Earth from an unknown force, to quarantine the Grey infection. Eons later, the Earth is a hell. A secret society fights back with the aid of the Watchers, in a universe-spanning battle for life itself.
The original cover was by Tania Marie, and it's still in place for the paperback for now. Read about that one here: https://davidsloma.com/earth-plan-on-pre-order/
Buy the ebook from me via Gumroad (Paypal enabled!)
Paperbacks and Kindle ebooks on Amazon now: Click here to visit the order page.
Also on Google Play, iTunes and all the other major ebook sites: https://davidsloma.com/book-stores/