My screenplay "Chewy, Gooey, Fruit Things" is now an ebook!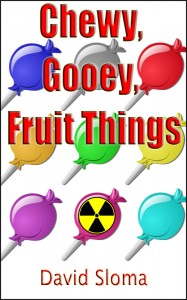 A candy laced with radioactive waste becomes a best-seller, making many sick and earning its makers a fortune. Visiting aliens find it makes a great fuel, but will they help the humans out of their mess?
An original, feature length screenplay.
Feature film screenplay currently available for production. 107 pages in screenplay format, about 22,000 words.
Get the ebook and read a free online sample at: http://www.smashwords.com/books/view/70922
Also on all other major ebook stores and as a paperback from Amazon. Signed copies available from the author, see the Store page.