MIB Files: Bigfoot Hunter – Tales Of The Men In Black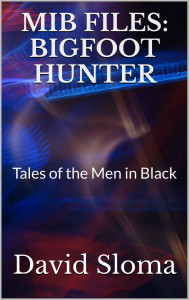 My new story is out "MIB Files: Bigfoot Hunter – Tales Of The Men In Black"
"The cry from the creature rang out in the misty night air, waking up Chuck Panter and his family in their tent." In this installment of the MIB Files, Mr. Unknown presents the story of an encounter with the mythical forest creature who draws the attention of the Men in Black. Disclaimer: This is an original work, not based in any way on the popular movie series "Men in Black".
Get it direct from me via Gumroad: https://gumroad.com/l/JNtEw
I like to sell my work from there, as I get better royalty rates than other distributors and more control over how I distribute my work. They are available in the formats: EPUB, MOBI, PDF and there is a Send to Kindle function. Gumroad is Paypal enabled! Thank you for supporting an independent writer!
The story is also on all the major ebooks sites for the regular price:
Amazon (Direct link: http://amzn.to/1VdsYHP)
iTunes
Nook
Kobo
Smashwords
Google Play
Complete stores list: https://davidsloma.com/book-stores/