Hello Reader,
This past weekend, mutants and SubGenii came from far and wide, gathered together and awaited XDAY – THE DAY THE WORLD ENDS AND THE UFOS COME TO SAVE US!
Every XDAY from 1 XDAY to 12 XDAY has been a total letdown, as the world is still here and every SubGenius is not aboard Nirvana-filled pleasure UFO saucers, filled with SEX GODDESSES and everything else you could ever want, dream of, or imagine.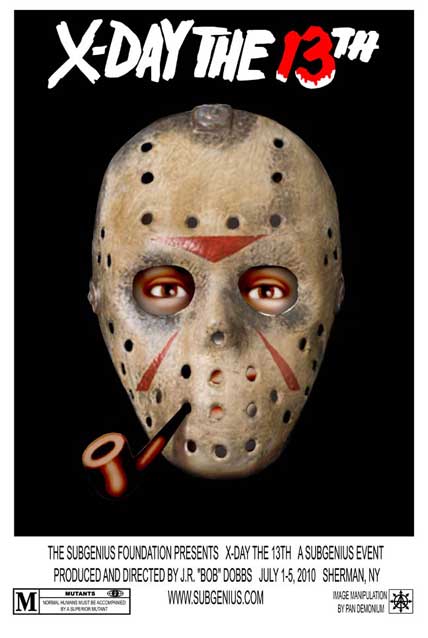 Why would anyone have hope that 13 XDAY would be any different and we wouldn't be let down again? Because Bob said so, that's why.
13 XDAY or XIII XDAY was on July 5th, 2010 and guess what? What happened?
NOTHING!! The world is still here and no UFO saviors, as Bob promised!! No SEX GODDESSES!!! WTF?
But, rejoice! Ye, the workings of Bob are strange and mysterious! There is no need for upset! Bob is a fickle one, and X-DAY will come to pass one…XDAY soon. As the living avatar of slack, can we expect anything less from Bob?
The Church of the SubGenius spreads the word of Bob across the globe like oil from an underwater Volcano: thick, gooey and hot!

I'll be keeping my eyes on the skies until next XDAY!



PRAISE BOB!