Taken Away Parts 1 – 3 Complete Edition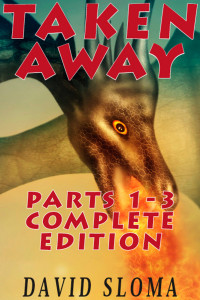 A bathmat has a rather strange pattern on it: when stepped on at a certain time and place it opens a portal to another world. Bob, the security guard is taken away; will he get home in time for his next shift? He can't be late for work again or he'll be fired for sure! Here are all 3 parts in one edition. Contains a sample of David's novel Brainjob.
Buy the ebook direct from me for instant download. I retain a larger royalty this way and more control over the distribution of my work. Thank you for supporting an independent writer!
Get it as an EPUB, MOBI, or PDF file: https://gum.co/gMuT
Get the ebook or paperback from Amazon.com: http://amzn.to/1NhnLbO
Also available from most major online book stores.