D.U.M.B.s (Deep Underground Military Bases) – first 4 novels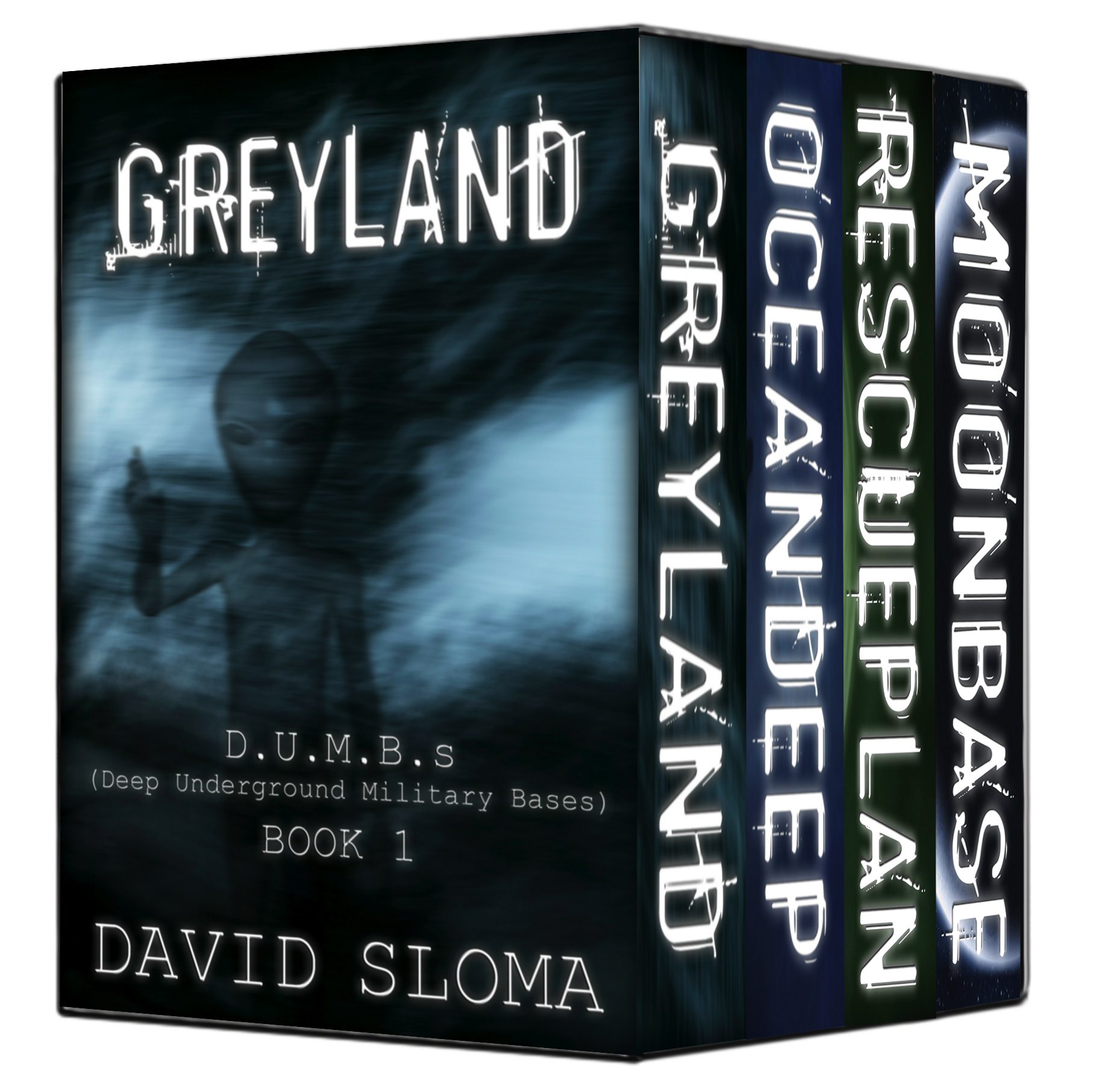 "Great read rivals Cussler and Riely…Thank you." – reader comment left on author's site.
Is there a clandestine world of tunnels and bases underground? Who is living in them? What do they want with humanity?
Leon Verdat thought he knew everything about building underground structures. His contracting business was very profitable and his family was thriving. It only took one visit from a mysterious Man in Black to change his life forever.
He was "asked" to come work for a secret military unit and introduced to black budgets and deep underground military bases (D.U.M.B.s) – the world of the "shadow government" and the ultra-rich, who live in a parallel society beneath our feet. Now, his life will never be the same again, if he survives.
There is more than he bargained for deep underground, including Grey aliens. They have been here for a very long time, tunneling, burrowing, making their plans for a takeover. The hive-like Greys are doing everything they can to kill off the human forces underground who are hunting them, before the Greys can emerge on the surface and take over the Earth for themselves, controlled by their off-planet masters.
But the secret military groups the world over are fighting as hard as they can to stop the alien's creeping invasion and Leon is caught up in the war going on under the feet of the unaware masses. How will he reconcile the secret life he is living underground with his family life on the surface? And how will he help stop the Greys? Because if they are not defeated, then nothing else on Earth will matter.
The inspiration behind this book series?
Many late nights listening to Coast to Coast AM, since the early days of Art Bell, where he'd have many guests on that talked about aliens and underground secret bases (mostly in the southwest USA desert, like Area 51, but also bases all over the world), like Whitley Strieber, Richard Dolan, Roger Lear, Richard Sauder, and more.
Guests spoke about real life bases and also told some fictional stories. Some spoke about both.
These books take a sampling of the facts that have been made public about D.U.M.B.s and adds some imaginative speculation to create a brand new, wild fictional ride!
Buy the first 4 books in the D.U.M.B.s series together (1st storyline).
You get:
Greyland: D.U.M.B.s (Deep Underground Military Bases) – Book 1
Oceandeep: D.U.M.B.s (Deep Underground Military Bases) – Book 2
Rescueplan: D.U.M.B.s (Deep Underground Military Bases) – Book 3
Moonbase: D.U.M.B.s (Deep Underground Military Bases) – Book 4
712 pages.
Buy it direct from me via Gumroad.com with PayPal or credit card (I get a higher share of royalties and more control over how I sell my writing. Thank you for supporting an independent writer!): https://gum.co/iMzUD
Other ebook stores you can get it at: https://davidsloma.com/book-stores
*Box set is not at Amazon currently, but you can buy each of the ebooks there separately, also paperbacks: http://amzn.to/1IUmZTw